Minister Nikolov discussed with Serbian Deputy Prime Minister Zorana Mihajlović the possibilities for integration of common energy markets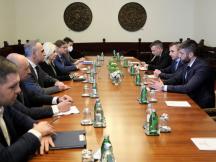 download this image
Energy Minister Alexander Nikolov talked in Belgrade with the Deputy Prime Minister of Serbia and Minister of Mining and Energy, Prof. Dr. Zorana Mihajlović, and they discussed prospects for bilateral co-operation in the sector. The main topic of the meeting was integration of common energy markets. Both ministers share the opinion that this would make the Western Balkans more visible through the prism of the EU's common energy market. This issue is of high importance for the Bulgarian energy sector since it balances the whole region, was emphasized during the discussion.
An important part of the conversation was the sustainability and security of the system in the context of the international rise in energy prices and the possible danger of disrupting the regularity of international supplies. In the medium term, a common approach to crisis plans and mitigation of the negative effects of risks should be developed. In the field of transformation and decarbonization, opportunities for joint RES projects have also been identified.
Minister Nikolov was part of the Bulgarian delegation of the official visit of Prime Minister Kiril Petkov to our western neighbor. Within the visit, Serbian President Aleksandar Vučić, Prime Minister Ana Brnabic and Deputy Prime Minister Zorana Mihajlović expressed readiness to provide investment intention in the event of a project for a new nuclear power plant is launched. The two sides discussed common challenges in meeting decarbonization targets as well.
Evidence of good bilateral relations in the energy sector is the progress in building the gas interconnector Bulgaria-Serbia that is expected to be completed by October next year. The IBS will expand the opportunities for stronger presence of the two countries in the European gas market and will encourage the diversification of supplies through the Southern Gas Corridor.
Bulgaria pursues a policy in line with the EU's main goals of security, competitiveness and sustainable development, has been underlined at the meetings. Our country supports Serbia in the negotiations with the EU on chapters "Energy" and "Trans-European Networks" and welcomes Serbian efforts to expand the electricity and gas infrastructure in the region (CESEC). The focus of the joint work here is on the greater integration of the natural gas and electricity markets in Central and South-Eastern Europe.