KEVR reported the successful completion of the project introducing European electricity market in Bulgaria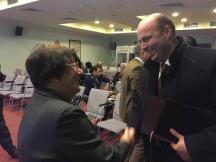 download this image
The second phase of the project for introducing electricity market in Bulgaria, funded under Programme BG04 "Energy Efficiency and Renewable Energy" of the Financial Mechanism of EEA 2009-2014 with Programme operator the Ministry of Energy, has been successfully completed. This was acknowledged by the beneficiary under the project – the Energy and Water Regulatory Commission and the participating partners-the Electricity System Operator and the Independent Bulgarian Energy Exchange. Deputy Minister of Energy Konstantin Delisivkov took part in the concluding event.
A total of EUR 32 million will be allocated within the second programming period under Programme BG 04-2014-2021. Major focus for the period will be put on energy efficiency and the use of geothermal and water potential in the country, Deputy Minister Delisivkov announced before the participants in the event.
The project for introduction of European electricity market in Bulgaria builds upon the achieved during the first phase, which was implemented in 2009 and 2010. The main recommendation of the work then was to develop a national electricity exchange by combining the experience of northern and continental electricity markets.
Further development of the electricity market in the country through the introduction of an organized "Day-ahead market" for physical delivery, steps towards integration of the market in Bulgaria with neighbouring areas and exploitation of effective tools for market surveillance are among the main objectives of the project. Assessment of the development of the internal electricity market in the EU and the Bulgarian electricity market was made in the framework of the project implementation. KEVR elaborated a structure and monitoring activities, and the first steps to integrate the Bulgarian market with the neighbouring zones are taken. ESO and IBEX made proposals for changes in the rules of electricity trading. These amendments introduce new market segments and contribute to the future development of the market towards its integration at regional and European level. IBEX and ESO explored the possibilities to organize and introduce an export area within the "Day-ahead market" as a first step towards market integration.
Among the indicators for the successful implementation of the project is the amount of electricity traded on the "Day-ahead market" of IBEX in 2016, namely 2 515 808 MWh, or 5.5 % of the total production in the country. There is also a growth in the number of registered participants on the exchange - from 37 in April 2016 to 48 in December 2016.