"Bulgartransgaz" modernizes compressor station "Strandzha", through which 85 % of the transited across Bulgaria natural gas passes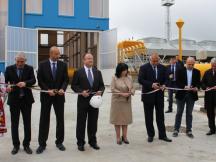 download this image
"Bulgartransgaz" EAD put into exploitation the third out of four modernized compressor stations. The reconstruction of CS "Strandzha" costs approximately BGN 70 million, and the investment in the new equipment for the four compression stations (Ihtiman, Lozenets, Strandzha and Petrich) exceeds BGN 200 million. The compressor station in Petrich is to be put into operation in the middle of the year. The project is financed from own resources of Bulgartransgaz, it is carried out by "Glavbulgarstroy" and the equipment gas turbo-compressor units are of the American company "Solar Turbines". The opening ceremony of compressor station "Strandzha" was attended by Prime Minister Boyko Borissov, Deputy Prime Minister for EU funds and economic policy Tomislav Donchev, Energy Minister Temenuzhka Petkova, the Mayor of Burgas Dimitar Nikolov, the Mayor of Yambol Georgi Slavov, the US Ambassador in Bulgaria, H.E. Eric Rubin, MPs, representatives of the local authorities and the business.
CS "Strandzha" is included in the exit of the route of the transit pipeline passing through Bulgaria to Turkey; it restores pressure losses and ensures the agreed transmission parameters of natural gas at the Bulgarian/Turkish border. The modernization of the site guarantees reduction in emissions and alignment with European environmental standards. The risk of unplanned outages is reduced; the technical condition is improved and the exploitation resource is increased.
Prime Minister Boyko Borissov underlined that 14 bcm of natural gas pass through compressor station "Strandzha" to reach Istanbul, for which our country receives transit fees. "We do our best to implement the strategy for real diversification", he added. According to Minister Temenuzhka Petkova CS "Strandzha" is one of the most important stations, as 85 % of the transited across the country natural gas is destined to Turkey in particular. Therefore, it is important this compressor station to be modernized and the facilities to meet the highest standards. The CEO of "Bulgartransgaz" Georgi Gegov announced that the second stage of the modernization of the gas transmission network of Bulgaria starts next week. Technical and economic analysis for the second stage of the reconstruction of the compressor stations will be carried out with a grant from the European Commission.