The interconnector Greece - Bulgaria will make a real diversification of sources of natural gas in the region of Southeast Europe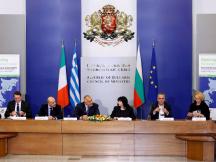 download this image
The shareholders in the mixed company "ICGB" signed today the Final Investment Decision for the construction of the gas interconnection Greece - Bulgaria. The ceremony, held in the Council of Ministers, was attended by Prime Minister Boyko Borissov, Deputy Prime Minister Tomislav Donchev, the energy ministers of Bulgaria and Greece: Temenuzhka Petkova and Panos Skourletis and other officials.
By signing the document, the shareholders in the mixed company commit to ensure the necessary funding to complete the construction, immediately after all necessary permits have been issued. Therefore, the adopted today Final Investment Decision is the final step before construction activities for the interconnector begin. They are scheduled for the second half of 2016. Pursuant to the preliminary schedule, commercial operation of the interconnector should begin in mid-2018.
"Thanks to our partners in the European Commission, the United States, Greece and our balanced position, today we have the chance to build a gas hub that will ensure our energy independence," Prime Minister Boyko Borissov said to the participants in the ceremony. In his opinion, this will be of benefit not only to Bulgaria but also to the entire region.
"The signing today starts the construction of the strategic interconnector for Bulgaria and Southeastern Europe, which will lead to a real diversification of sources of natural gas," Minister of Energy Temenuzhka Petkova stated during the ceremony. According to her, for the first time, this strategic infrastructure will provide Bulgaria and the entire region of Southeastern and Central Europe with access to potential alternative sources of natural gas from the Caspian region, the Middle East, the Eastern Mediterranean, as well as to liquefied natural gas.
The estimated budget for the construction of the interconnector is about 220 million euros. It is expected that upon entry into exploitation, the interconnector will have up to 3 bcm annual capacity that could be increased at a later stage. The interconnector is 182 km long, of which 151 km are on Bulgarian territory and 31 km on Greek land. It is built entirely on a commercial basis by the mixed company "ICGB" in which equal shares of 50% are owned by the Bulgarian Energy Holding and "Poseidon" (involving equally the Italian company "Edison" and the Greek one "DEPA"). The interconnector Greece - Bulgaria is defined as a Project of Common Interest for the European Union and is included among the priority projects of the High Level Group of the Central and South East Europe Gas Connectivity (CESEC). An expression of the strong commitment of the Bulgarian Government to the project is the increased sovereign guarantee for it –from 80 million BGN in the 2015 budget to 215 million BGN in the next year budget.