The Ministry of Energy and AES Bulgaria signed a Memorandum of Understanding for exploring innovative solutions in the sector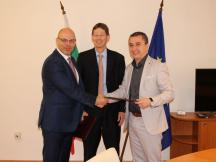 download this image
The Ministry of Energy and AES Bulgaria approved a Memorandum of Understanding. The document was signed by Energy Minister Alexander Nikolov and CEO of the company Mr. Ivan Tzankov.
According to the Memorandum, AES Bulgaria commits to supporting the country's efforts for energy decarbonization and achieve the increased ambitions for 2030 and 2050 under the European Green deal. Knowledge and experience will be provided for the market uptake of innovative technologies that will support the smooth transition to environmentally friendly production and storage of energy, including from renewable sources. AES Bulgaria will explore the options for developing a mix of a solar project with capacity of about 100 MW and a Battery Energy Storage System (BESS), as well as a stand-alone BESS project of 80 MWh in the vicinity of Sofia, thereby supporting the potential and security of the network.
With the Memorandum we are taking a further step in our bilateral cooperation on the sustainable sector development. Energy sector not only in Bulgaria faces a number of challenges that we can only meet if we are united, said Minister Nikolov and thanked the representatives of the private sector for the partnership, the initiative and the shared experience. Thus, with a joint effort, we can boost the competitiveness and security of Bulgarian energy, Minister Nikolov underlined. The energy minister highlighted the importance of the joint partnership to address economic and social issues related to the future of the Maritza East complex.
It is also stated in the Memorandum that the Power Purchase Agreement (PPA) concluded between AES Bulgaria and the National Electricity Company EAD as a buyer, will continue to operate until its expiration in 2026 and will not be extended thereafter as provided for in the National Recovery and Resilience Plan of the Republic of Bulgaria of 6 April 2022. AES Bulgaria will explore the conversion/co-incineration options at the AES TPP of natural gas/hydrogen, biomass or fuel produced from residual waste (solid recovered fuel -SRF) after the expiry of the PPA in May 2026.
AES Corporation is actively engaged in energy transformation, in the deployment of new solutions and products in the region and in the sustainability of markets. AES has the mission to be at the forefront of energy transformation, to accelerate the deployment of new solutions and products and enhance the sustainability of markets in which the company operates, the AES President Ollivier Marquette said during the signing ceremony.