Minister Zhivkov: Nuclear energy will remain a significant factor in meeting European decarbonization targets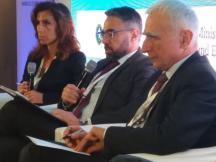 download this image
Nuclear energy is and will remain a significant factor in meeting the EU's ambitious targets on decarbonization and zero carbon emissions, Energy Minister Andrey Zhivkov said to the participants at the Ministerial Meeting of the Partnership for Transatlantic Energy and Climate Cooperation, which took place in the Polish capital Warsaw. Minister Zhivkov spoke at the forum within the framework of the nuclear energy panel. His speech focused on the long-standing experience of our country in the safe and secure operation of nuclear facilities for the production of clean and affordable energy. According to him, the nuclear sector continues to be a guarantor of energy security and independence, providing energy to businesses and households at competitive prices.
We are convinced that, in order to be successful and acceptable, green energy transition must not limit the right of choice of states with respect to clean energy technologies used. Many countries consider nuclear energy as an appropriate means of ensuring transition to clean energy, Minister Zhivkov underlined. He also stressed the consistent support of Bulgaria to the use of nuclear energy, which can successfully contribute to the process of overall decarbonization of the national economy.
During the panel discussion Minister Zhivkov highlighted Bulgaria's efforts to diversify the supply of fresh nuclear fuel to Kozloduy Nuclear Power Plant. In his words, the sector has a huge potential to implement soon the first small modular reactors for commercial exploitation, which offer opportunities for faster construction and have competitive financial parameters. However, there remain challenges related to the lack of a flexible framework for accelerated licensing of these technologies, difficulties in identifying suitable sites, absence of a final decision on radioactive waste management, the energy minister pointed out. In his opinion, different forms of dialogue among stakeholders should be sought to overcome these obstacles.
The P-TECC initiative includes the USA and 22 European countries – Bulgaria, Albania, Austria, Bosnia and Herzegovina, Croatia, Cyprus, the Czech Republic, Estonia, Georgia, Germany, Greece, Hungary, Latvia, Lithuania, Moldova, Montenegro, North Macedonia, Poland, Romania, Slovakia, Slovenia and Ukraine, in close cooperation with the EU. P-TECC is focused on technical cooperation in a number of key areas, such as ensuring analysis and planning of the integration of gas and electricity transmission systems, providing best practices in the field of energy cybersecurity, promoting new capital investments in key energy infrastructure, enhancing energy efficiency and clean energy consumption, including in the field of renewable energy sources, nuclear energy and fossil fuels. These objectives are in line with the priorities of the Republic of Bulgaria in the energy sector. Bulgaria supports the Partnership for Transatlantic Energy and Climate Cooperation and takes part in its working groups since its establishment.