Minister Rumen Radev and Ambassador Giuseppina Zarra discussed the deepening of energy co-operation between Bulgaria and Italy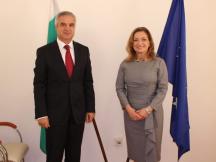 download this image
Opportunities to deepen energy co-operation between Bulgaria and Italy were major focus of the meeting between Energy Minister Rumen Radev and the Ambassador of Italy to Bulgaria H.E. Giuseppina Zarra. The talks took place at the Energy Ministry, with the participation of Deputy Minister Iva Petrova, the Head of the Political Cabinet Karina Angelieva and experts from the International Directorate.
After reviewing the excellent bilateral relations, the potential for further cooperation on technologies related to the production of green hydrogen and electricity were underlined. The challenges to energy transition, energy diversification and security of access to energy resources were also among the topics covered during the meeting.
The close friendship and cooperation between Bulgaria and Italy were highlighted with a concrete commitment to addressing common challenges and fostering wider interaction in areas of mutual interest as well as in the framework of European energy programmes.