Minister Petkova: The Southern Gas Corridor strengthens the energy security of Bulgaria, the region and the EU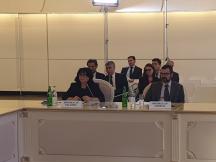 download this image
Bulgaria has the exceptional advantage that the Southern Gas Corridor, the fourth gas supply corridor for Europe, crosses the region of Southeast Europe. The Southern Gas Corridor strengthens energy security not only in our country, but also that of the European Union, Energy Minister Temenuzhka Petkova said to the participants in the fifth Ministerial Meeting of the Southern Gas Corridor Advisory Council, which took place in Baku, Azerbaijan.
In her speech at the forum, the Energy Minister stressed the efforts of the Bulgarian Government to build the missing infrastructure and to complete interconnections in the region as a main condition for ensuring energy security.
According to Petkova, of huge geostrategic importance for the diversification of gas supplies is the construction of the interconnector Greece – Bulgaria, an integral part of the Southern Gas Corridor and the joint initiative of Greece, Bulgaria, Romania and Hungary for the construction of Vertical Gas Corridor for supplies from South to North. Minister Petkova briefed participants in the forum that our Government plans to start construction works in mid-year and complete them by 2020, in synergy with the launch of TAP. Recognition for the importance of the project was also made by Sandra Oudkirk, Deputy Assistant-Secretary in the US Bureau of Energy Resources:"The future completion of the interconnection with Greece would be a historic moment for the whole European Union", she said to the participants in the forum.
The interconnector Greece-Bulgaria is being implemented in synergy and with other future projects in the region, including the LNG terminal near Alexandroupolis, the Energy Minister underlined and added that Bulgaria will be involved through Bulgartransgaz as a shareholder in its construction. Thus we will also be able to provide supplies from more distant destinations, including the USA.
Temenuzhka Petkova informed the participants in the meeting with the concept for the construction of a gas hub in the country, which is in line with the projects for development of the Southern Gas Corridor. This concept is implemented in the context of the European objectives for building an interconnected and single common European gas market, the Energy Minister stressed.
Bulgaria is an integral part of the Southern Gas Corridor and will continue to work with priority on the gas projects that provide real diversification of natural gas sources and routes, Petkova assured.