Minister Petkova: Our strategic partnership with the USA is key to energy diversification in the region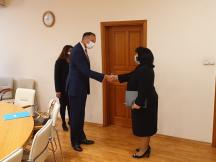 download this image
"Bulgaria and the United States of America are strategic partners in the field of energy and this is key to diversifying energy supply not only to our country, but also throughout the region" Energy Minister Temenuzka Petkova said during her meeting with Francis R. Fannon, Assistant Secretary for the Bureau of Energy Resources at the U.S Department of State. The U.S. Ambassador to Bulgaria H.E. Herro Mustafa took part in the meeting as well.
Bulgaria is actively working to ensure energy security and highly appreciates U.S. support for the implementation of the priority infrastructure projects in this area - the interconnector Greece-Bulgaria and the LNG terminal near Alexandroupolis.
According to Minister Petkova, the construction of the interconnector Greece-Bulgaria is a major priority of the Government in the energy sector. She briefed Assistant Secretary Fannon on the progress of the project – 150 km of manufactured pipes, 103 km of route clearance, 80 km of laid pipes, started process of welding activities, trench digging and pipe laying. The Energy Minister reaffirmed the Government's strong commitment to successfully completing the interconnector as infrastructure of strategic importance to the security of gas supplies in Southeast Europe.
Mr. Fannon praised Bulgaria's progress in the implementation of its energy diversification priorities and confirmed the U.S. support for these efforts. He noted that the U.S.A. welcomed Bulgaria's participation in the LNG terminal near Alexandroupolis. Ahead of his visit to Bulgaria, Mr. Fannon was in Greece together with Secretary of State Mike Pompeo, where a considerable part of the talks focused on energy diversification and energy security in the region.
Bulgaria considers the implementation of the interconnector with Greece to be in synergy with the participation in the LNG terminal project near Alexandroupolis, Minister Petkova underlined. Our country's involvement in these projects provides for real diversification of natural gas sources and routes and Bulgaria is a key factor for this process in the region. The Energy Minister highly praised the U.S. support for transforming Bulgaria into a regional energy hub.
Minister Petkova and Francis Fannon also discussed the progress achieved in the project for diversifying fresh nuclear fuel for Kozloduy Nuclear Power Plant.