Minister Petkova has discussed the progress in the interconnector with Greece with the partners from the Greek-Italian consortium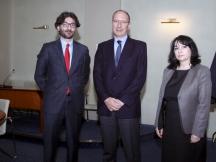 download this image
Bulgarian –Greek gas interconnector is a very important project for our country and the EU
"The interconnector Bulgaria-Greece is an extremely important project not only for our country but for the entire European Union", Bulgarian Minister of Energy Temenuzhka Petkova said at the meeting with Bulgarian Energy Holding's partners in the project, namely the Italian-Greek consortium "Poseydon". Both parties discussed the progress made in the implementation of the interconnector, the execution of the activities related to the roadmap and the need of consecutive activities on the project acceleration.
Minister Petkova informed the guests about her talks held with European Commission Vice President Maros Sefcovic who had confirmed the serious interest of the EU to the project. "We have the assurance that the Commission will provide the required funding for the construction of the interconnector, but we need to follow the steps outlined in the roadmap", Minister Petkova stated before the Italian-Greek consortium representatives.
"Bulgaria is currently working on the speeding up of the project and reported that 80 mln euro has been granted for it from the 2015 state budget. This grant is an expression of the strategic significance we attribute to the project" Minister Petkova added.
"This project is equally significant to us and to our governments as well," Poseydon partners highlighted during the meeting. They clarified the willingness to sign a Final Investment Decision by 29th May 2015. Meanwhile a new Project Development Agreement will have to be signed before that date, which is going to urge the works on the project according to the roadmap schedule.
The partners agreed that keeping the roadmap schedule plays a key role in the implementation of the project. Greece-Bulgaria interconnector is the link of our country to the Southern Gas Corridor. Its construction is crucial for ensuring the diversification of gas supply routes and sources for Bulgaria and the whole region. The project is of strategic importance to the EU and it has been defined as a Project of Common Interest. It is also a major step for the realization of the Vertical Gas Corridor that will be constructed by Bulgaria, Greece and Romania.
According to preliminary estimate the investment in the project amounts to 220 mln. euro. BEH and "Poseydon" /shareholders: the Greek "DEPA" and the Italian "Edison"/ hold equal shares in the project.