Minister of Energy requesting dialogicity at the Green Week 2023 Forum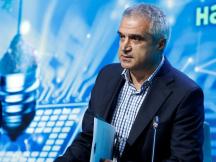 download this image
Minister of Energy requesting dialogicity at the Forum "The team of the Ministry of Energy will seek mechanisms to proactively support knowledgeable, capable and respectable experts, associates and investors," Energy Minister Rumen Radev said at the beginning of the panel "Energy connectivity and transformation of basic energy capacities", part of the Green Transition 2023 Forum.
"We are facing many challenges," Minister Radev pointed out, "What path we should take to be an integral part of the common European energy system, to be a predictable and reliable partner, while ensuring a dignified life horizon for thousands of industry workers and their families; whether there exist adequate working solutions for the future of coal capacity; what concrete steps we should take now, and not in the undetermined future, to develop nuclear capacity, RES, geothermal capacity, energy storage systems, new high-tech, low-emission solutions in line with climate challenges; are we going to be the centre of energy security and stability for the region and at what cost?"
According to the Minister, addressing these topics starts first by formulating adequate and socially meaningful questions, through discussions with stakeholders and by setting out open positions and engaging argumentations.
Minister Radev remained at the panel as listener to hear the views of the different countries and their vision for the development of energy connectivity and transformation.