Minister Nikolov: Bulgaria strongly supports the expansion of gas supplies through the Southern Gas Corridor to Southeast Europe and the Western Balkans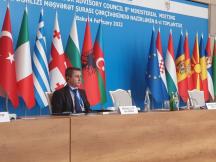 download this image
Natural gas will play a significant role in the decarbonization process in Southeast Europe and will directly contribute to the rapid energy transition, Energy Minister Alexander Nikolov told participants in the eighth Ministerial meeting of the Southern Gas Corridor Advisory Council. The Forum took place on 4 February 2022 in Baku, the Republic of Azerbaijan. In his speech, Minister Nikolov stressed the role of the Southern Gas Corridor in diversifying natural gas sources and routes to European countries. With the launch of supplies from Azerbaijan to the European Union through the new transmission infrastructure, the last year marked a new stage in the development of the project and proved its crucial role in increasing energy security in European countries, Minister Nikolov said.
Minister Nikolov underlined the critical role of natural gas in the context of high volatility of energy prices in recent months. Stable supplies from our strategic partner Azerbaijan are a key factor in mitigating the negative effects on the economy caused by high energy prices, Minister Nikolov pointed out. According to him, in this context, Bulgaria is interested in obtaining additional quantities of natural gas from Azerbaijan.
Bulgaria strongly supports the expansion of gas supply through the Southern Gas Corridor to Southeast Europe and the Western Balkans. Further integration of energy markets in the region will allow us to build the right responses to the challenges of energy prices, Minister Nikolov stressed in addition. He recalled that in 2021, Bulgaria has received the first quantities of Azerbaijani natural gas. Our country thus fulfils its strategic priority for diversifying sources and routes for the supply of blue fuel.
Minister Nikolov highlighted the role of the interconnector Greece-Bulgaria in improving energy security by ensuring access to the Southern Gas Corridor and the LNG terminal in Alexandroupolis, Greece, where our country has 20% shareholding.
Bulgaria will continue to work actively on all gas projects that provide diversification of sources and routes of supply, concluded the energy minister.
The eighth Ministerial Meeting of the Southern Gas Corridor Advisory Council was opened by the President of Azerbaijan, Mr Ilham Aliev and the Commissioner for Energy of the EC Ms Kadri Simson. The Ministerial meeting was attended by the energy ministers of the Southern Gas Corridor countries: Azerbaijan, Georgia, Turkey, Greece, Bulgaria, Albania, Italy, and also representatives of Southeast European countries, Hungary, Moldova, Ukraine, as well as the United States of America and the United Kingdom.