Local exploration of energy resources is the most important step towards diversification of natural gas sources for Bulgaria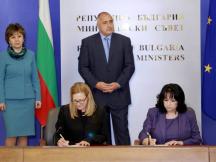 download this image
Shell Exploration and Production B.V., part of Royal Dutch Shell Plc., will explore "Block 1-14 Silistar" area for oil and natural gas deposits. The block is situated in the exclusive economic zone of Bulgaria's Black Sea.
Today, in the presence of Prime Minister Mr. Boyko Borisov, Minister of Energy Mrs. Temenuzhka Petkova and Mrs. Eileen Wilkinson, Shell Regional VP Exploration, signed the agreement for prospecting and exploration. Shell will invest EUR 18.6 M, VAT excluded, in the exploration and will pay the state a bonus of EUR 4.9 M, VAT excluded. The work program includes resources for "Corporate social responsibility" fund for the coastal municipalities, to which the area "Block 1-14 Silistar" is adjacent and also for the "University of Mining and Geology St. Ivan Rilski", as well as for Sofia University "St. Kliment Ohridski".
The agreement is for a period of five years with the possibility of a two- year extension, applicable twice. The work program proposed by the company includes seismic surveys that will be carried out in line with the national and European regulations and Shell's health, safety, security, environment and social performance standards.
"With this agreement, signed today, we make the most important step towards the diversification of oil and natural gas sources for the Bulgarian industrial and household consumers", Energy Minister Mrs. Temenuzhka Petkova stated during the ceremony. Ensuring the country's energy independence is one of the most important priorities of the energy sector program of the Government. One of the ways to achieve this is through prospecting and exploration of own natural gas and oil deposits.
Shell Exploration and Production B.V., part of Royal Dutch Shell Plc., will use the technical and management expertise, as well the experience of Shell Group during the exploration. Royal Dutch Shell Plc. is a leader in deep-water exploration and production and is one of the largest international oil and gas companies in the world. "Block 1-14 Silistar" covers an area of 6893 square km of Bulgaria's Black Sea continental shelf and exclusive economic zone.