Deputy Minister Nikolay Nikolov: Bulgaria maintains a strong proactive approach to nuclear energy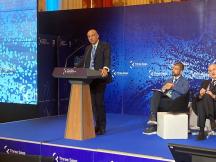 download this image
Bulgaria maintains a strong proactive approach to nuclear energy, demonstrating more than 45 years of proven experience in the safe operation of nuclear energy. Our nuclear power plant is a key factor in the stability of Bulgaria's national electricity system and energy security, Deputy Minister Nikolay Nikolov said during his speech at the Nuclear Energy Panel of the Three Seas Initiative Business Forum, held on 7 September 2023.
The event was held under the auspices of the Romanian President Klaus Iohannis and was opened by the President and the Prime Minister of Romania. The Forum was attended by the Bulgarian Deputy Prime Minister Ms. Maria Gabriel, the Polish, the Lithuanian and the Latvian presidents, as well as the Croatian Prime Minister and John Kerry, U.S. Special Presidential Envoy for Climate.
Deputy Minister Nikolov added that the aim of nuclear energy is to ensure reliable supplies to countries through safe, efficient and environmentally clean electricity production at a reasonably low cost. He also participated in the Transatlantic Cooperation Round Table to promote investments in clean energy and low carbon technologies in Central and Eastern Europe, organized by the Atlantic Council Global Energy Centre, as part of the Business Forum events.