Deputy Minister Iva Petrova: Partnership and solidarity in Southeast Europe are key to energy security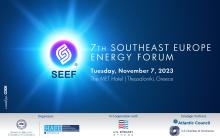 download this image
Deputy Energy Minister Iva Petrova participated via videoconference in the 7th Southeast Europe Energy Forum in the panel "Еnergy cooperation in the Southeast Europe and Eastern Mediterranean region: a turn point for the EU's energy security". Participants in the panel were also the Greek Environment and Energy Minister Theodoros Skilakakis and Deputy Economy Minister of the Republic of Kosovo Getoar Mjeku.
In her speech, the Bulgarian Deputy Energy Minister stressed that the Southeast European energy partnership is of strategic importance to the EU in terms of maintaining a high level of energy security, further diversification of gas supply sources and routes and in support of liberalized and competitive markets. According to Iva Petrova, the region is an important transit hub for energy flows from Central Asia and the Middle East to Europe, as it endorses the strengthening of the dialogue and cooperation between producer countries, transit countries and the consumers.
Deputy Minister Petrova identified 2022 as a very turbulent year in the energy sector and commented that the disruption of Russian gas supplies to some EU countries, the high energy prices and the war in Ukraine have put the countries of the region in a situation of constant redesign of their energy strategies. "The events of the past two years have shown us that transformation and autonomy require major investments in networks and interconnectivity," Iva Petrova added.
The international event is organized in cooperation with the American-Hellenic Chamber of Commerce and the strategic partnership of the Atlantic Council. The Forum brings together key policy makers, regulators, market players, financiers, academics and experts who share insights and observations on up-to-date topics in the energy field.