Deepening Bulgaria's energy cooperation with Sweden, Finland and Denmark has been discussed today at the Ministry of Energy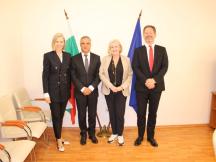 download this image
Opportunities for enhancing energy co-operation were the issues highlighted during the meeting of Energy Minister Rumen Radev with the ambassadors of Sweden, H.E. Katarina Rangnit, of Finland H.E. Kristiina Kuvaja, and of Denmark H.E. Yes Brogard Nielsen. The meeting was held at the Energy Ministry in the presence of Deputy Minister Nikolay Nikolov and experts from the International Directorate.
Among the topics of the discussion were energy diversification and security of energy resources supply, the challenges to the energy transition, the use of natural gas as a transitional fuel in the energy transformation, as well as ambitions in the development of nuclear energy and RES. Emphasis was also placed on energy connectivity and cooperation in the Balkans.
At the end of the meeting, the ambassadors of the three friendly countries underlined that Bulgaria is an important partner and it is essential to maintain and further develop the bilateral relations.