Bulgaria will receive natural gas from the Trans Adriatic Pipeline through the interconnector with Greece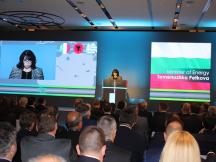 download this image
The groundbreaking ceremony of the Trans Adriatic Pipeline, part of the infrastructure of the Southern Gas Corridor, was held in Thessaloniki, Greece. The Bulgarian delegation was led by Deputy Prime Minister for EU Funds and Economic Policy Tomislav Donchev. The Vice-President of the European Commission in charge of the Energy Union, Maroš Šefčovič, the Prime Minister of Greece, Alexis Tsipras, the Prime Minister of Georgia Giorgi Kvirikashvili, the Special Envoy of the United States for International Energy Affairs, Amos Hochstein and Energy Minister Temenuzhka Petkova participated in the event.
"One of the key priorities of the Bulgarian government is the diversification of sources and routes of natural gas supplies. Our country gives high priority to the realization namely of the interconnector with Greece", Minister Petkova said at the ceremony. She recalled that in January 2014 a Memorandum of Understanding and cooperation was signed between "ICGB" AD and "Trans Adriatic Pipeline" AG for coordination and integration of the two projects.
The interconnector "Greece-Bulgaria" is designed with technical capacity of 3 up to 5 bcm per year with the possibility of greater expansion, including 10 bcm per year subject to commercial interest and economic justification. With the signing of the Final Investment Decision at the end of 2015, the shareholders in the project have proceeded toward real actions to build the interconnector. According to the Roadmap of its implementation, commercial operation is expected to start in mid-2018, Petkova added. She informed the participants in the event about the successful outcome of the first non-binding phase of the Market test of the project, which was successfully completed in April, 2016. Nine companies submitted non-binding offers for the reservation of more than 4, 3 billion cubic meters of natural gas per year. The second phase of the market test will start in June.
The project for the construction of the Southern Gas Corridor is envisaged to be the fourth big axis for supply of gas to the European Union.  The main objective of the Southern Gas Corridor is to enhance security of supply-it will provide a direct link between the EU gas market and one of the biggest gas fields in the world, those of the Caspian Sea and Middle East basin. TAP can deliver more than 10 bcm of natural gas to Europe. Supplies are expected to start in 2020.