Bulgaria and Slovenia are ready to exchange experience in the development of nuclear energy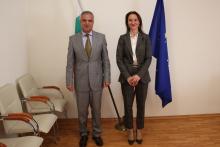 download this image
Bulgaria and Slovenia face identical energy challenges and can cooperate for their mutual benefit, especially in exchanging experience in the field of nuclear energy. This became clear during a meeting at the Ministry of Energy between Minister Rumen Radev and Slovenia's Extraordinary and Plenipotentiary Ambassador to Bulgaria, Ms Natasha Bergel.
Slovenia is following with particular interest the steps in implementing the planned new nuclear capacity at Site No 2 of NPP Kozloduy, which last month was declared a national site and a site of national importance. The Balkan country has one reactor of the US Company Westinghouse, commissioned in 1983, and is interested in increasing its nuclear capacity.
The possibility of concluding a Memorandum of Understanding in the field of nuclear energy and further expansion of the energy cooperation was also discussed.