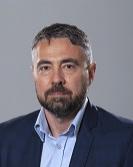 Caretaker Minister of Energy
Andrey Zhivkov was born in 1971 in the city of Botevgrad.
He completed his secondary education at "Cyril and Methodius" Secondary Polytechnic School in Kyustendil, in 1989. He graduated from the Technical University in Sofia with a major of "Power supply and electrical equipment" in 1996. He acquired a qualification in "Company Management" at the Institute of Postgraduate Studies to the University of National and World Economy in 2003 and a professional certificate in Management at New Bulgarian University in 2006. In 2012 he obtained a Master's degree in Economics.
He worked at "Electricity Distribution Sofia Capital" EAD from 1996 to 2012 and after the sale of the company at "CEZ Bulgaria Distribution" EAD, where he held different positions with the last being Head of Department "Sofia Capital".
From 2014 to 2015 he was a member of the Supervisory Board of "Electricity System Operator" EAD.
From 2017 to 2018 he was a member of the Board of Directors of "Electricity System Operator" EAD.