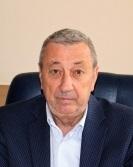 Caretaker Deputy Minister
Miroslav Damyanov was born on 15 February 1953.
He has over 40 years of experience in the electricity sector, of which seven at managing positions. He graduated from the Technical University with a Master's degree in "Electricity" in Sofia, attended courses for automated management systems and for foreign economic relations at the University of National and World Economy, and a business management course at the University of Central Lancashire, the UK. He obtained professional trainings related to the management of the electricity system, load forecasting, privatization and liberalization of energy markets and other at various organizations in Switzerland, the Czech Republic, the USA, France, and the United Kingdom.
Foreign languages: English, Russian and Czech