Since the beginning of 2020 the entry point of delivery of natural gas to Bulgaria has changed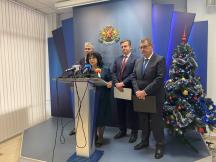 download this image
As a result of the change the supply price of gas from Russia is decreased by 5% for Bulgarian consumers
As of 1 January 2020, the entry point of natural gas supply to Bulgaria has changed.  "Bulgargaz" EAD shall receive natural gas at delivery point "Strandza". Until now, the country's entry point was Negru Voda. This announcement was made at a briefing by Minister of Energy Temenzhka Petkova. The executive directors of the Bulgarian Energy Holding EAD, Mr. Jacklen Cohen, of "Bulgargaz" EAD, Mr. Nikolay Pavlov and of "Bulgartransgaz" EAD, Mr. Vladimir Malinov, also participated in the press conference.
As a result of the agreements reached between "Bulgargaz" EAD and "Gazprom Export", the prices for Bulgarian household and industrial natural gas customers will decrease by nearly 5% on an annual basis. This economy is due to the drop in the access and transmission charges through the territory of the Republic of Romania of 76 million BGN, which will not be paid by "Bulgargaz" EAD and the Bulgarian natural gas consumers during the coming year", Energy Minister Petkova announced at the briefing. Bulgaria's supplier "Bulgargaz" EAD is expected to have a positive financial result in an estimated amount of 4.6 million BGN for 2019/2020 gas year stemming from payment of the lower tariffs announced by "Bulgartransgaz" EAD at "Strandza" entry point.
According to Minister Petkova, as of 2 January a multilateral trading on the organized stock market, including a short-term segment (spot), a long-term segment and a brokering service, has started on the gas trading platform of "Balkan Gas Hub" EAD. "This will allow full liberalization of the natural gas market in our country", she underlined.
For the first time this year, "Bulgargaz" EAD has held several auctions and concluded contracts for supplies of liquefied natural gas, including from the USA, amounting to a total of 403 million cubic metres. A further 100 million cubic liquefied natural gas has been contracted for January.