Minister Zhivkov spoke with the State Secretary for Energy of Romania and Spain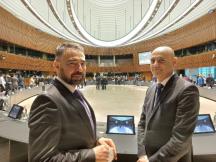 download this image
During his visit to Luxembourg, where he attended the extraordinary meeting of EU energy ministers, Minister Andrey Zhivkov discussed the problem with spiking electricity prices in Europe with the Romanian and Spanish State Secretary for Energy Dan-Dragoș Drăgan and Sara Aagesen. The focus of their discussions was the ability of governments to implement appropriate compensation for consumers so as to protect them against the high electricity prices.
Romania has adopted a law on vulnerable consumers, on the basis of which it is possible to support a wide range of people, informed Dan-Dragoș Drăgan. The country is currently considering implementation of measures and tax incentives to reduce energy prices.
Sara Aagesen spoke about the package of measures approved by the Spanish government aimed at improving market transparency for companies in the conclusion of long-term electricity supply agreements.
Minister Zivkov informed his colleagues that Bulgaria is the only country in the EU where household consumers are on a regulated market and this is a sort of protection for them. Therefore, in our country, support is primarily focused on businesses. The caretaker government should take effective measures, but without an acting parliament the task is extremely difficult, because some of the measures require legislative decisions, Minister Zhivkov said. Despite the complicated situation, the government has enforced a direct support programme of EUR 55 per megawatt-hour of electricity used. It is implemented cumulatively with other measures to alleviate the pressure on businesses caused by the high electricity prices.
In parallel, the government is also preparing legislative proposals that will be presented to the next National Assembly when it is constituted, Minister Zhivkov added.