Minister Zhivkov: Observance of the terms in the repair works for Chaira PSHPP is of vital importance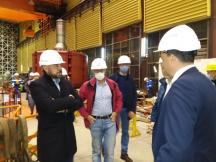 download this image
Compliance with the time limits for the repair works of the damaged machine of Chaira PSHPP and those in rehabilitation is of critical importance for the electricity system in the context of the forthcoming winter season and rising electricity prices, Energy Minister Andrey Zhivkov, who inspected the work on site. Minister Zhivkov was accompanied by a European Commission delegation headed by the Deputy Director-General of DG Energy Massimo Gariba, who is currently on a monitoring mission in Bulgaria to verify the progress in implementing projects financed under the Kozloduy International Decommissioning Support Fund (KIDSF). The rehabilitation of Belmeken–Sestrimo-Chaira Hydro Complex is part of these projects.
In August there was an accident with one of the Chaira PSHPP machines. This fact, combined with the planned rehabilitation of two other facilities, puts into outage a significant part of the plant's capacity. At the moment, the repair works are optimized through a transfer of staff from other facilities, a reduction of the days–off and holidays of employees and other measures. The management of the plant said that their aim is to complete the repair activities by the end of the year. This will provide also acceleration of rehabilitation activities, since at the site of the plant it is not possible to perform activities for more than two machines at the same time.
Chaira PSHPP has 4 units with a total capacity of 864 MW. The Agreement "Rehabilitation of Belmeken–Sestrimo-Chaira Hydro Complex" was signed between the EBRD (as administrator of KIDFS funds) and NEK EAD in 2013. The agreement totals EUR 42.48 million, of which EUR 26.58 million represents KIDFS grants.