Minister Petkova: The modernization of the transit gas pipeline to Turkey is being realized within the set time frame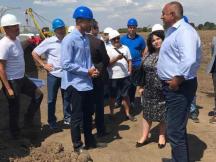 download this image
The activities on the construction of a transit gas pipeline to Turkey (looping) in the section of Lozenets – Nedyalsko are being realized within the set timeframe. Today, Prime Minister Boyko Borissov and the Minister of Energy Temenuzhka Petkova inspected the site in the region of Yambol.
The construction of 20 kilometres gas pipeline section from compressor station "Lozenets" to Nedyalsko is realized in order to increase the safety and capacity of the existing transit gas network of Bulgartransgaz EAD. The activities are part of a project for the rehabilitation, modernization and expansion of the existing gas transmission system, defined as project of common interest by the European Commission. The construction relates to the expansion of the transit gas pipeline to Turkey and is key to the development of the existing interconnectivity of Bulgaria with our southern neighbour. Its implementation will enhance the security of the transmission system of Bulgartransgaz EAD and allow the transmission of additional volumes of gas along the transit gas pipeline in the section between the compressor station "Lozenets" and the Bulgarian-Turkish border.
According to Prime Minister Boyko Borissov, the construction of reverse gas connections will enable the input of gas from different sources to the European gas hub Balkan. We comply with the European legislation and the requirements of the Third Energy Package when realizing our projects, everyone can pay transit fees and transit through Bulgaria", Borissov added. "Our work is real and we deliver on one of our main priorities in the energy sector, namely- the diversification of sources and routes of gas supply", Petkova underlined.
The commissioning of the site is expected in 2018. The construction of the looping increases the possibility to transit natural gas from Bulgaria to Turkey from 14 bcm to 15.7 bcm per year. In addition, natural gas can be transported in the reverse direction from Turkey to Bulgaria.