Minister Petkova: The construction of the interconnector Greece-Bulgaria makes the diversification of natural gas to Southeast Europe a fact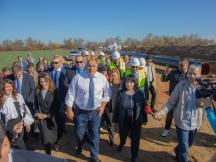 download this image
"The first pipes for the construction of the interconnector Greece-Bulgaria have been delivered. This became possible after the signing of a number of important documents that ensured the financing of the project and its legal sustainability was guaranteed", Energy Minister Temenuzhka Petkova said during an inspection of the progress of construction activities related to the building of the Greece-Bulgaria gas interconnector. The construction site was visited by Prime Minister Boyko Borissov, the Chairman of the Energy and Water Regulatory Commission Ivan Ivanov, the ambassadors of the USA, Greece and Azerbaijan to Bulgaria – H.E. Herro Mustafa, H.E. Dimitrios Chronopoulos and H.E. Nargiz Gurbanova. Minister Petkova recalled the loan agreement signed on 10 October with the European Investment Bank, as well as the signed Intergovernmental agreement between Bulgaria and Greece, which are clear steps in the efforts of the Bulgarian Government to diversify energy supplies.
"Generations of politicians have talked about diversification, but it is now that it became a reality. What is going to be built here will connect us with the Trans-Adriatic pipeline and the LNG terminal near Alexandroupolis, thus enabling the entire region to receive natural gas from the USA, Qatar, Cyprus, Azerbaijan and other destinations," Prime Minister Boyko Borissov stated during the inspection.
The on-site inspection today found that excavation activities for the first two kilometres of the interconnector track had started and the pipes for the first kilometer delivered. The length of the marked centerline and the cleared polar is four kilometers. BGN 4 million was spent only for the archaeological excavations, as artifacts dating 7 thousand years ago were found on the route, some of which were shown during the visit.
"We are also working hard to create a gas exchange and establish a gas hub in the country. They will ensure competition and cheaper deliveries for the Bulgarian economy and household consumers," Prime Minister Borissov noted.