Bulgarian–Algerian relations have a potential for development in the energy sector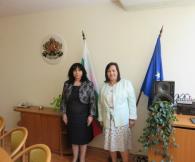 download this image
"The relations between Bulgaria and Algeria have a great potential and they are yet to be developed", Energy Minister Temenuzhka Petkova said at the meeting with the Ambassador of People's Democratic Republic of Algeria H.E. Latifa Benazza. They agreed energy sector should become a vital part of bilateral co-operation.
During the meeting Minister Petkova outlined the major priorities of Bulgarian Government in the energy sector. "We have focused our work on creating interconnectivity of Bulgaria with its neighbor states, which will provide energy security in our country", the minister stated. In her opinion, the construction of the interconnectors with Bulgarian neighbor countries has considerably progressed for the last 7 months. The interconnector with Greece is expected to be commissioned in 2018 and that with Romania at the end of the current year. Minister Petkova said that the European Commission has provided grants for both interconnectors with Turkey and with Serbia.
"We hope by issuing a permit for the prospection and exploration of oil and gas in deep-water Black Sea blocks "Teres" and "Silistar" to find one more option for the diversification of energy sources," Minister Petkova added. She reminded that 21st September is the deadline for submitting the required documentation for the announced competitive tender procedure for exploration in both Black Sea blocks. Bulgarian Energy Minister underlined that the initial geological surveys in deep water Black Sea give grounds for optimistic outcome regarding substantial local yield.
Temenuzhka Petkova highlighted that the financial stabilization of the energy sector is of primary importance for Bulgarian Government and the Ministry of Energy. "We have aimed our efforts at minimizing the losses in the energy sector and its optimization." According to the Energy Minister, market liberalization, due to start in 2016, is one of the factors which will contribute to the solving of the financial problems in the sector.