Bulgaria and Azerbaijan to deepen cooperation in the field of energy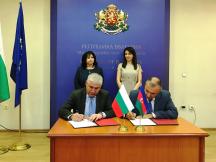 download this image
Bulgaria and Azerbaijan to intensify their joint cooperation in the field of energy, this has been agreed by the Bulgarian Energy Minister Temenuzhka Petkova and Mr. Murat Heydarov - Executive Director of SOCAR Balkans, daughter company of the Azerbaijani State Oil Company SOCAR. In the presence of Minister Petkova and the Extraordinary and Plenipotentiary Ambassador of the Republic of Azerbaijan to Bulgaria Ms Nargiz Gurbanova, "Bulgartransgaz" EAD and SOCAR have signed today a Memorandum of Understanding.
The main purpose of the document is to explore opportunities and capabilities for additional gas supply routes to Bulgaria and through Bulgaria to other countries in South-Eastern Europe. SOCAR is ready to examine the technical and commercial capacity of the existing transmission system, operated by "Bulgartransgaz" EAD, including its future extensions, such as by building the gas hub "Balkan", for the transit of additional volumes of gas by the Southern Gas Corridor through the territory of Bulgaria to other European markets. The additional quantities which do not include the existing agreed volumes to be delivered to Bulgaria, as per the contract between SOCAR and "Bulgargaz" EAD of September 2013, may be allocated in the future and are subject to implementation of new upstream projects.
"Main priority in the energy sector for the present Bulgarian Government is to ensure energy security, as well as diversification of supply sources and routes for natural gas. For its implementation we rely to a great extent on our cooperation with Azerbaijan", Minister Petkova underlined to Mr. Heydarov. The realization of the concept of the Bulgarian Government to build gas hub "Balkan" will provide the possibility to have real functioning market of natural gas in South-Eastern Europe, she also added. According to her, the Bulgarian gas infrastructure is developing at an excellent level and could ensure access of Azerbaijani gas to third countries.
SOCAR representative, Mr. Heydarov indicated the strategic nature of the bilateral energy cooperation between Azerbaijan and Bulgaria. "Bulgaria is one of the key participants in the Southern Gas Corridor and a reliable partner in the realization of alternative gas deliveries to Europe from the Shah Deniz field in Azerbaijan and potentially from additional fields, as well as from other producing countries", emphasized Mr. Heydarov.